Ointments, lotions, creams, pills, even lasers are used as treatments for psoriasis. How do I make sense of all the options available to me?
Legs Covered in PsoriasisWith the hundreds of options available to people suffering with psoriasis outbreaks it is hard to determine what the differences are. This article is intended to offer a general description of the four traditional treatments generally used to relieve psoriasis, and a basic order in which they are administered. It is not intended to be an in-depth analysis of any particular treatment, (that would be a lot to read on one page). For more in-depth information about each of the methods covered here, please click on the treatment method you wish to know more about.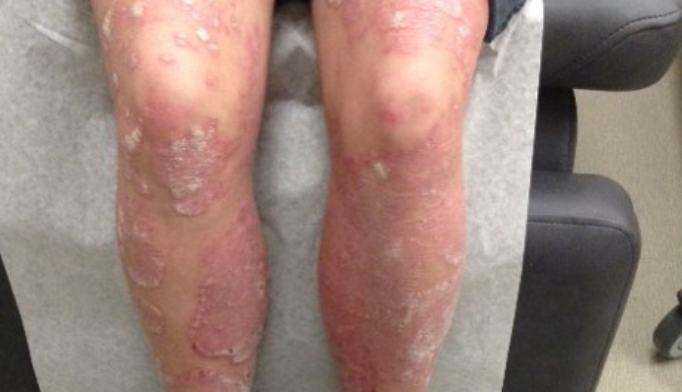 What are the 4 Methods Traditionally Used by Medical Professionals?
1. Topical Medications:
Psoriasis Treatments Applied Only to Surface of Body
Topical medications represent the broadest range of treatments for psoriasis. There are a great number of different options and these are the first step in treating mild or moderate psoriasis. They can also be used alone or in combination with other treatments for moderate or severe psoriasis. Although they are the first and most common treatment, they rarely completely clear symptoms on their own.
2. Systemic Medications:
Internal Body-Wide Psoriasis Treatments
Systemic treatments use injections or pills that affect more than just the skin, but the whole body. As psoriasis is an autoimmune disease, many of the drugs prescribed are used for other severe diseases as well, such as rheumatoid arthritis and cancer. Systemic medications are reserved for severe psoriasis as they can have significant side effects.
3. Phototherapy:
Treatment for Psoriasis Using Light
Phototherapy treatments of psoriasis come in two main forms. Ultraviolet A, UVA light which is used in combination with medications, and different forms of ultraviolet B, UVB light can be, but is not always, used with medication. Lasers are also used for a very focused wave of UVB that is super effective for localized psoriasis. Ironically it is the damage to the skin caused by ultraviolet light that can destroy skin cells that form psoriasis patches.
4. Nutrition:
Lifestyle Change for Treatment and Prevention of Psoriasis
Nutrition and diet affect the immune system and in many case can both relieve and prevent outbreaks. More and more leading psoriasis facilities offer nutritionists to combat the onset and lingering affects patients experience with this disease. A healthful diet that meets certain nutritional needs are known to be essential in immune function. Diet and Nutrition affect people differently so a detailed plan is essential. For more details on how diet and psoriasis work together click here.
A little more about traditional treatments for psoriasis…
The Traditional Treatment Sequence
Most doctors use a combination of the above treatments in three main steps. This order of the steps is designed to offer quick relief of symptoms and help with long-term maintenance of the patients psoriasis.
The Quick Fix: to clear up the psoriasis during an outbreak to offer relief from itching and swelling (i.e, topical steroid for mild-to-moderate cases, or an oral immunosuppressant in more severe outbreaks).
The Transitional Phase: intended to gradually introduce a lifestyle change and the maintenance drug if needed.
Ongoing Maintenance Therapy: diet and lifestyle changes, along with ongoing treatments if needed to combat severe psoriasis.
The overall effectiveness of treatments varies greatly from patient to patient. Many patients respond well to over-the-counter treatments, and most if not all will respond positively to change in diet. Some patients require more extreme treatments for their psoriasis outbreaks. In most cases proper maintenance will dramatically reduce and sometimes eliminate relapses. In some cases such maintenance treatments must be lifelong. This simple treatment can help you get rid of psoriasis fast.